ASC CS220 WR WATER-REPELLENT CALCIUM SILICATE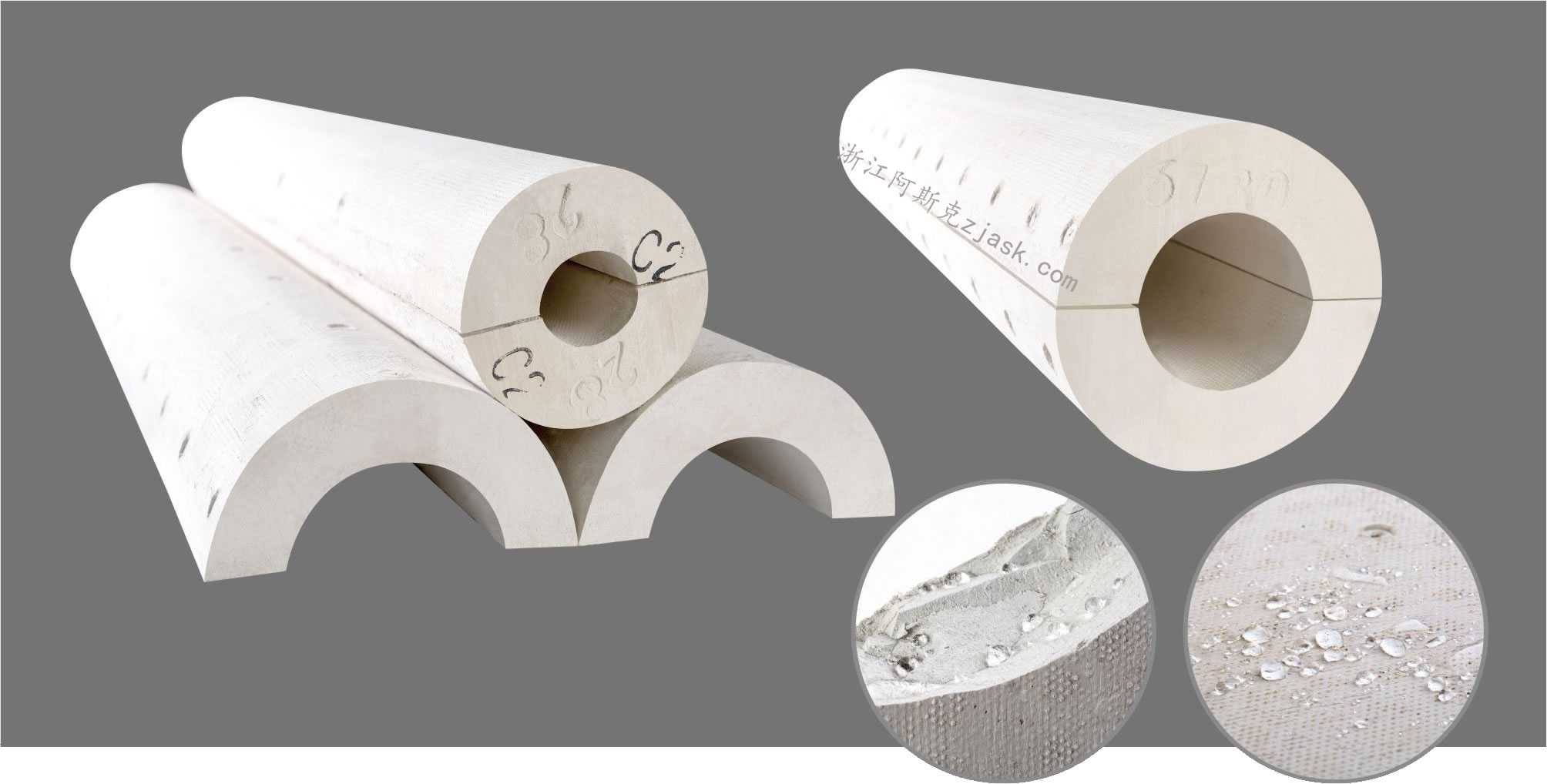 The insulation material is characterized with waterproof effect for outdoor applications,mainly used in under-ground piping system and special outdoor insulation.According to customers'requirements,the CS170 and CS220 could be made into whole water repellent type. It is the microcellular structured inorganic rigid and super-light heat insulation material mainly composed of inorganic siliceous and calcium and made by special technology such as the hydrothermal reaction under high temperature and high pressure etc. It can still remain its own property at the high temperature of 650℃: heat resistance and super-low chloride ion content, so it can have very good protection on peripheral steel pipes, resist deformation and have super-long service life.
· Advantages
A1

Outstanding Waterproofing Performance

No oil and water absorption reduces the safety hazard caused by medium leakage.

A2

Asbestos Free

Made from algous fossil from hundreds of millions of years ago, the product is entirely asbestos-free and non-poisonous to human body.

A3

Superior Strength

With similar density, the strength of this material is the highest among all the inorganic rigid insulation materials with better compressive performance and is not easy to bend, Compared with ASC CS170, ASC CS220 product has better physical strength.

A4

Good Anti-corrosion

The super low chloride ion content and alkalescence have good protection for metal pipes, which greatly prolongs the service life of pipes and equipment and greatly reduces maintenance cost, bringing lasting protection and better durability.

A5

Excellent Soundproofing Performance

Great soundproofing effectively reduces industrial noises.
· Applicable Scope
It's the preferred product for equipment pipelines and heat supply pipeline network systems in industrial fields such as electricity, petrochemical industry, metallurgy, construction, vessel, etc. It can also be used as the backing material for firebricks in various furnaces.
· Technical Data
PROPERTIES
UNIT
ASTM C533
ZHEJIANG ASKE
Density
Kg/m3
≤250
≤200
Maximum Service Temperature
℃
650
650

Thermal Conductivity per

ASTM C518/C1114

(38℃)
W/m.k
≤0.059
≤0.050
(93℃)
≤0.065
≤0.0535
(204℃)
≤0.079
≤0.054
(371℃)
≤0.102
≤0.0923
Linear Heat Shrinkage per ASTM C356
%
≤2.0
≤1.3
Flexural Strength per ASTM C203
MPa
≥0.344
≥0.389
Compressive Strength per ASTM C165
MPa
≥0.688
≥0.897
Weight Loss by Tumbling per ASTM C421(First 10 minutes)
%
≤20
≤17
Weight Loss by Tumbling per ASTM C421 (Second 10 minutes)
%
≤40
≤32.1
Hot Surface Performance per ASTM C411(649℃)
CM
≤0.6
≤0.6
Moisture Content per ASTM C1616
%
≤20
≤4
Non-Combustible Property per ASTM E136
●
Pass
Non-combustible level A1
Water Repellency
%
●
99.4
(依据GB/T 10299-2011)
| Item | Slab | 曲面 | Pipe |
| --- | --- | --- | --- |
| Length(mm) | 600 | 600 | 600 |
| Width(mm) | 300/150 | 150/100 | 0.5"- 60"(inside diameter) |
| Thickness(mm) | 25-100 | 25-100 | 25-100 |
· Remark
Packed in standard export cartons with plastic bags inside used for waterproofing. Carton Size:580(L)*320(W)*620(H)mm, 40HQ:576BOXES, 20HQ:252BOXES. Pallets can be made according to customers' requirements. Standard sizes showed as above. For further information, including nonstandard sizes, please contact Zhejiang ASKE.